Sometimes you need something to keep you motivated, get you going in the morning, encourage you to plug through a late night of more work after a day full of it. 
I compiled a list of motivational quotes and sayings to keep you fresh, excited and on the YES train (like Jim) toward your goals.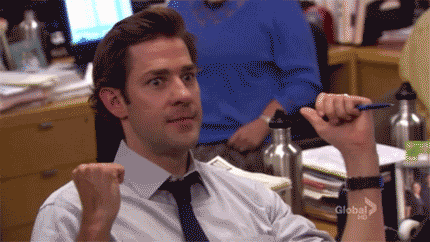 1. "Look yourself in the mirror and ask yourself, what do I want to do everyday for the rest of my life…do that."
– Gary Vaynerchuk
2. "If you do what you've always done, you'll get what you've always gotten."
– Tony Robbins
3. "Twenty years from now, you will be more disappointed by the things that you didn't do than by the ones you did do, so throw off the bowlines, sail away from safe harbor, catch the trade winds in your sails. Explore, Dream, Discover."
– Mark Twain
4. "Things may come to those who wait, but only things left by those who hustle."

– 

Abraham Lincoln

 
5. "The only way to do great work is to love what you do."

– 

Steve Jobs

 
6. "One of the huge mistakes people make is that they try to force an interest on themselves. You don't choose your passions; your passions choose you."

– 

Jeff Bezos

 
7. "Waiting for perfect is never as smart as making progress."

– 

Seth Godin

 
8. "Embrace what you don't know, especially in the beginning, because what you don't know can become your greatest asset."

– 

Sara Blakely

 
9. "I can accept failure. Everyone fails at something. But I cannot accept not trying."

– 

Michael Jordan

 
10. "Honesty and integrity are by far the most important assets of an entrepreneur."
– Zig Ziglar